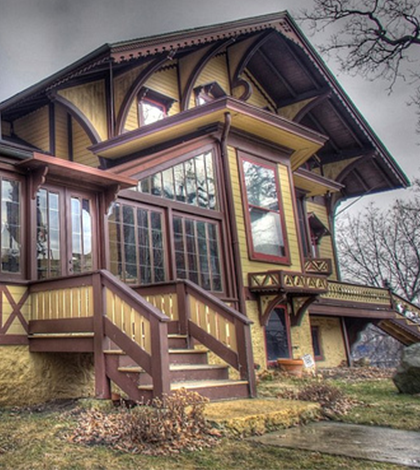 Now known as Tinker Swiss Cottage Museum and Gardens, this beautiful mansion and its grounds are tucked away on Rockford's west side. Quite a few Rockfordians know it is there, and some of them even know its history. What some of you might not know is that it has the reputation of being haunted!
The house is a very unique place for several reasons. It is on a limestone bluff overlooking the Kent Creek, and there are signs of a definite Native American presence. Water, limestone and Native American influence are all said to be great conductors of paranormal activity.
The house is filled with Tinker family possessions. This is not a house that has been decorated with pieces brought in from sales or donations. This house is definitely a "time capsule of the Victorian Era." The Tinker family not only gave the Rockford Park District their house, they also included all of their possessions. They left clothes, dishes, diaries and furniture. This could be another reason why there is so much paranormal activity here.
Haunted Rockford has visited this unique place for several years now and has enjoyed working with executive director Samantha Hochmann and before Samatha's tenure, with former executive director Steve Litteral. Right from the very first tour, people had experiences they could not explain.
The first time we ever visited the cottage on one of the Haunted Rockford bus tours, we were joined by a paranormal investigation team. We split the guests up into small groups, and different guides led them through the cottage. As we were loading the bus to head to the next stop, one of the ladies approached me. She told me she had really enjoyed the tour. She loved that we used psychics, that we shared the history of the house, that we had the team along, and that we had the lady dressed in clothes from the time period of the Tinkers. This last piece caught my attention, and I asked her what she meant. She explained that when her group was going out on the suspension bridge, they passed a woman with her dark hair in a bun and all dressed in white.
By now, we had been joined by others on the tour, and there was a surprised gasp from several of the members when I explained that we had no one dressed up in a white dress. I wasn't sure who the lady saw, but this mystery woman was not part of the tour. I can't adequately describe the look on the woman's face, but I can tell you that it was priceless!
That first encounter was a definite omen of things to come. Almost every time we have organized an event there, people have experienced something. One other time when we were there with a group, we were upstairs in the "red room" telling about Josephus Dorr, when all of a sudden we heard a woman's voice from downstairs calling "Hello?" I turned to Steve and asked if he had locked the doors behind us and he stated that he had. I told him he better go make sure because we were all upstairs and someone must have come in.
Steve had a very funny look on his face when he joined us a few minutes later. He had checked the doors and they were locked. He had also checked the entire downstairs, and there was no one else in the building with us. Everyone who was there that night confirmed that they heard the voice.
There have been many incidents reported since by guests. They have spoken of hearing children playing, being touched, hearing whistling and humming, and seeing many full-bodied apparitions. In fact, the cottage has so much activity, it was featured on the Ghost Hunters show a couple of years ago.
When people ask me what is the most haunted place in Rockford, I always answer that Rockford has many places that have paranormal activity. Tinker Swiss Cottage is definitely one of them.
Copyright © 2014, 2021 Kathi Kresol, Haunted Rockford Events