Spirit Encounters At Memorial Hall
July 13, 2018 @ 7:00 pm

-

8:30 pm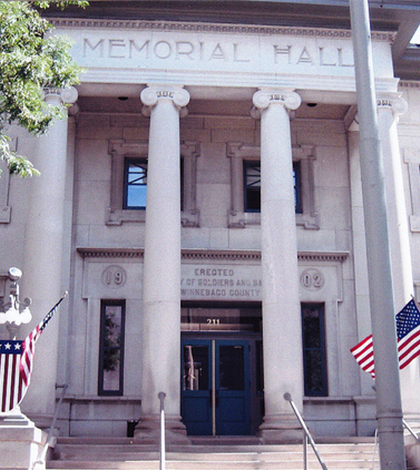 Celebrate Friday the 13th with Haunted Rockford!
Kathi Kresol, local historian and author; and Sara Bowker, psychic and paranormal investigator are excited to be invited to the Hall for this event. Kathi and Sara will share stories of their personal experiences from years of investigating the haunted locations in Rockford and the surrounding areas. This event is free of charge but donations to the Veterans Memorial Hall will be accepted.
Kathi Kresol's obsession is history and she has been feeding this passion while researching Rockford's history for over ten years. Kathi loves the opportunity to share this passion through the stories she writes for her column, "Voices from the Grave" in the Rock River Times and the stories she tells on her Haunted Rockford Tours. She serves on the Board of the Rockford Historical Society, has worked at the Rockford Public Library for years, and loves sharing her enthusiasm for history and reading in any way possible. Her first book, Murder and Mayhem in Rockford Illinois" was published in 2015 and her follow up to that is "Haunted Rockford, Illinois," published last fall.
Sara Bowker has had an interest in the paranormal and spirituality for most of her life. Though she is hesitant to label herself a psychic or medium, both are true and she has found that, as time goes on, her abilities grow, change, and develop further. Whether she is passing a message to a person from a deceased loved one, or pointing them in a direction that helps further their own spiritual growth, Sara sees her gift as a blessing. Her desire to help others connect and understand the world beyond this one isn't so much to prove that spirits exist, but rather to open people up to the possibility that we are more than just terrestrial beings. Sara is grateful to be able to use her gifts in this way, to help others, and to strengthen her own faith in something greater.
No registration is required for this event. Join us!
Please the website at www.hauntedrockford.com to learn more about Kathi, Sara, or see a listing of upcoming Haunted Rockford Events